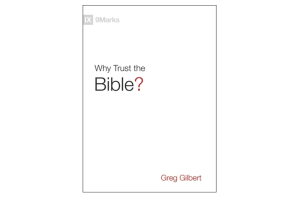 At a Glance
By: Greg Gilbert

The Bible stands at the heart of the Christian faith. But this leads to an inescapable question: why should we trust the Bible? Written to help non-Christians, longtime Christians, and everyone in between better understand why God's Word is reliable, this short book explores the historical and theological arguments that have helped lead millions of believers through the centuries to trust the Bible, from Genesis to Revelation. Written by pastor Greg Gilbert, author of the popular books What Is the Gospel? and Who Is Jesus?, this volume will help Christians articulate why they trust the Bible when it comes to who God is, who we are, and how we're supposed to live.
More Details
Endorsement
"This outstanding book provides a magnificent summary of the evidence in support of the Bible's historicity. It is well argued, brief, thorough, highly readable, and compelling. I not only recommend it but will also seek to give it to many friends—both believers and skeptics."

William Taylor, Rector, St. Helen's Bishopsgate, London; author, Understanding the Times and Partnership
Table of Contents
1. Don't Believe Everything You Read
2. Lost in Translation?
3. Copies of Copies of Copies of Copies?
4. Are These Really the Books You're Looking For?
5. But Can I Trust You?
6. So Did It Happen?
7. Take It on the Word of a Resurrected Man
A Final Word: The Next Question
Appendix: Resources for Further Exploration
Read this eBook on the BibleMesh web-reader or our iOS and Android app.
Web-reader

Format: eBook
Published Date: October 31, 2015
Publisher: Crossway
About the Technology
About the Authors

Greg Gilbert (MDiv, The Southern Baptist Theological Seminary) is senior pastor at Third Avenue Baptist Church in Louisville, Kentucky. He is the author of What Is the Gospel?, James: A 12-Week Study, and Who Is Jesus?, and is the co-author (with Kevin DeYoung) of What Is the Mission of the Church?
---