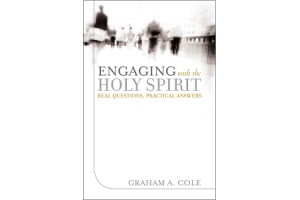 At a Glance
By: Graham A. Cole
Despite the growth of the charismatic movement and Pentecostal churches, people still have questions-and even troubling concerns-about the person and work of the Holy Spirit. These real questions are the burden of this book, which seeks to sequentially address from throughout Scripture six crucial questions that affect a person's relationship to the Spirit:
What is blasphemy against the Holy Spirit?
How does a person resist him?
Ought we to pray to the Spirit?
How do we quench the Spirit?
How do we grieve the Spirit?
How does he fill us?
Each chapter is devoted to one question and challenges readers about their relationship with the Spirit and about Christian living in general. Readers are also given key elements for thinking theologically and implications for their belief and behavior. It's a brief, reader-friendly book full of solid, reassuring answers.
More Details
Read this eBook on the BibleMesh web-reader or our iOS and Android app.
Web-reader

Format: eBook
Published Date: April 30, 2008/p>
Publisher: Crossway
About the Technology
About the Author

Graham A. Cole (ThD, Australian College of Theology) is the dean and professor of biblical and systematic theology at Trinity Evangelical Divinity School. An ordained Anglican minister, he has served in two parishes and was formerly the principal of Ridley College. Graham lives in Libertyville, Illinois, with his wife, Jules.
---