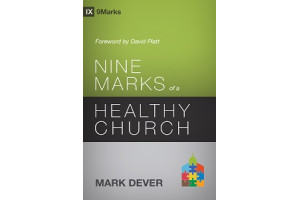 At a Glance
By: Mark Dever, Forward by: David Platt
Now in its third edition and featuring a new foreword by New York Times best-selling author David Platt, pastor Mark Dever's classic book is not an instruction manual for church growth. Rather, it is a wise pastor's recommendation for how to assess the health of a church using nine crucial qualities often neglected by many of today's congregations. Church leaders and church members alike will resonate with the principles outlined here, breathing new life and health into the church at large. In this newly revised edition, fresh arguments have been added (for example on expositional preaching, about the nature of the gospel, on complementarianism), illustrations have been updated, appendices have been changed, and cover has been improved.
More Details
Read this eBook on the BibleMesh web-reader or our iOS and Android app.

Web-reader

Format: eBook
Published Date: August 31, 2013
Publisher: Crossway
About the Technology
About the Author

Mark Dever (PhD, Cambridge University) is the senior pastor of Capitol Hill Baptist Church in Washington, DC, and president of 9Marks (9Marks.org). Dever has authored over a dozen books and speaks at conferences nationwide.
---