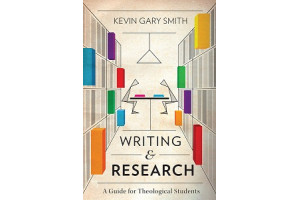 At a Glance
By: Kevin Gary Smith
Written in a simple yet engaging style, Dr Kevin Smith applies his years of experience and expertise in scholarly writing and research in this one-volume guide. Perfect as an introduction for new and continuing undergraduate or postgraduate students, this publication provides helpful guidelines and illustrations on all the elements that go into producing an academic work. Combining specific instruction on researching and preparing an academic work, as well as practical advice for task management, makes this an ideal go-to guide for students and supervisors alike.
More Details
Read this eBook on the BibleMesh web-reader or our iOS and Android app.
Web-reader

Format: eBook
Published Date: September 2016
Publisher: Langham

About the Technology
About the Author

Kevin Gary Smith is the Head of Academics at the South African Theological Seminary (SATS). He previously served as a teaching pastor at His People Christian Church. He holds a DLitt in Greek from the University of Stellenbosch and a PhD in Theology from SATS. At SATS, he has been actively involved in mentoring students at all levels with academic writing, and guiding master's and doctoral candidates in the design of research projects. Kevin is married to Lyndi and they have one son.
---