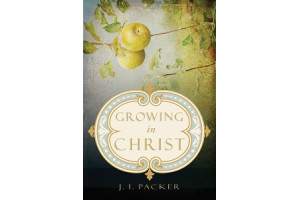 At a Glance
By: J. I. Packer
Growing in Christ explains just that—how to grow in Christ. As this book shows, we mature spiritually by carefully learning and thoughtfully living the essentials of the Christian faith that are too often taken for granted or overlooked in our daily lives.
These essentials—so beautifully summarized in the Apostle's Creed, the Lord's Prayer, and the Ten Commandments—provide the heart of the book, which Dr. Packer explores and applies to daily life in a clear and refreshing way. Study questions and Bible passages follow each chapter for further individual or group study.
Speaking to Christians of all backgrounds and denominations, the newly converted as well as the lifelong believer, Dr. Packer reminds us that Christianity is not instinctive. Ours is a faith that must be learned, and we must never stop striving to mature.
More Details
Read this eBook on the BibleMesh web-reader or our iOS and Android app.
Web-reader

Format: eBook
Published Date: January 31, 2007
Publisher: Crossway
About the Technology
About the Author

J. I. Packer (DPhil, Oxford University) serves as the Board of Governors' Professor of Theology at Regent College. He is the author of numerous books, including the classic best-seller Knowing God. Packer served as general editor for the English Standard Version Bible and as theological editor for the ESV Study Bible.
---