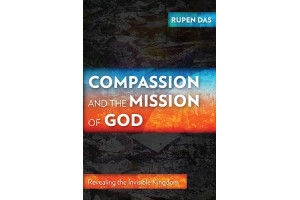 At a Glance
By: Rupen Das
This book traces God's compassion as it is revealed in the Old and New Testaments, exploring the expression and impact of compassion in the early church through its actions and teachings as part of its witness. Focusing on the church's responsibility to be compassionate, Dr Rupen Das underlines the theological and missiological questions central to any discussion on the compassion of God. Culminating with how compassion is lived out by God's people, the book looks at concepts of transformation and the demonstration of the kingdom of God in the real world. This book provides an excellent biblical and theological foundation for anyone involved or interested in ministries of social justice, relief, development and compassion.
More Details
Read this eBook on the BibleMesh web-reader or our iOS and Android app.
Web-reader

Format: eBook
Published Date: January 2016
Publisher: Langham

About the Technology
About the Author

Rupen Das is with Canadian Baptist Ministries on secondment to the European Baptist Federation. He is Research Professor of Social Justice, Compassion and Development at Tyndale University College and Seminary in Toronto, as well as on the faculty of the International Baptist Theological Study Center in Amsterdam. Dr Das has extensive global experience in relief and development and has worked with several organizations, including World Vision. This experience, along with his long-term involvement in educational administration and theological education allows him to bring a mix of practice and academia to his writing, research and teaching.
---