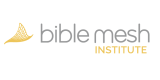 Christar Post-Assessment
The Christar Post-Assessment is designed to assess what students have learned from their required and recommended BibleMesh Institute coursework, as well as to determine Christar candidates' knowledge, communication skills, and ability to integrate and apply basic Christian doctrines to topics frequently encountered in cross-cultural ministry.
At a Glance
Christar candidates will complete the Post-Assessment after successful completion of all required coursework from the student's Custom Program Plan. The Post-Assessment is an oral-based assessment overseen by BibleMesh Institute administrators. Upon completing the registration process, students will schedule a date for their Post-Assessment with BibleMesh Institute staff. Areas of proficiency to be assess include the following:
Clarity of Communication
Knowledge of Essential Elements of Core Christian Beliefs
Ability to Synthesize Biblical, Historical, and Theological Material to Cross-Cultural Topics
Demonstration of Critical Thinking
More Details
Students can register and schedule their Post-Assessment at any time after the successful completion of any Custom Program Plan required courses. Students will be provided a rubric of the categories in which they will be assessed. BibleMesh Institute administrators and tutors will administer the assessment via video conference call. Students can expect the Post-Assessment to be at least an hour in length. Results will be provided to the student, as well as to Christar, upon completion of the Post-Assessment.