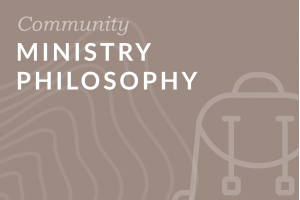 At a Glance
'Philosophy of ministry' or 'ministry framework' describes how you apply your theological principles to the issues you face. This course allows you to identify a philosophy of ministry that reflects your current church community, your missional context, and your theological or denominational distinctives.
Set aside 2-3 hours per week to read, reflect and pray your way through this Foundation Course.
Each lesson includes
Insightful articles on Bible passages, doctrine and application
Instructional videos and commentaries
Interactive reflection boxes to make and store your notes
This course is ideal for
Elders looking to develop firm foundations to lead gospel-centred, missionally-focussed churches
Trainee or new elders as part of their wider training and preparation for eldership
Leadership teams who want to establish a common theological, pastoral and missional vision
Existing church ministries who want to 'top-up' their theology with a course that has a strong missional, evangelical and reformational emphasis
More Details
Explore what a gospel-centred, missionally-focused philosophy of local church ministry looks like in your context.
Brought to you by Crosslands, the Ministry Philosophy course is divided into 9 lessons:
Unit 1 – Gospel
Unit 2 – Word and Prayer
Unit 3 – Grace
Unit 4 – Mission
Unit 5 – Community
Unit 6 – Worship
Unit 7 – Disciple-making
Unit 8 – Children
Unit 9 – Culture-formation
Course Options
For more information about Crosslands and to sign up to run a Study Group or Learning Site, click here.
---