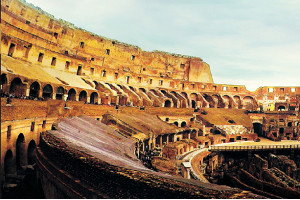 At a Glance
Assigned proctor to guide you through the course and provide extra assignments
Access to all course material—video lectures; readings enhanced by maps, photos, timelines, and charts; key concept reviews, and quizzes
Access to the Cerego learning system to build memory retention of course objectives
$250 per month access to complete the course at your own pace
More Details
Enter the world of the New Testament. This course will serve as your passageway from the twenty-first century to the era of Jesus and the first Christians. An ideal guide, The New Testament in Its World course addresses many difficult questions faced by those studying early Christianity.
On-location and in-studio videos, maps, charts, diagrams, and photos will immerse you into the world of the New Testament as this course takes you on a journey with Wright and Bird to Jerusalem, Corinth, Athens, Rome, Nazareth, Qumran, Capernaum, and the shores of the Sea of Galilee.
This course brings together decades of ground-breaking research, writing, and teaching into one learning experience that will open stduents' eyes to the larger world of the New Testament. It presents the New Testament books as historical, literary, and social phenomena located in the world of Second Temple Judaism, amidst Greco-Roman politics and culture, and within early Christianity.
Course Outline: 
Beginning Study of the New Testament
The New Testament as History
The New Testament as Literature
The New Testament as Theology
The History of the Jews between the Persian and Roman Empires
The Jewish Context of Jesus and the Early Church
The Greco-Roman Context of the Early Church
The Study of the Historical Jesus
The Profile and Praxis of a Prophet
Who Did Jesus Think He Was?
The Death of the Messiah
The Afterlife in Greek, Roman, and Jewish Thought
The Story of Easter According to the Apostle Paul
The Story of Easter According to the Evangelists
The Story of Paul's Life and Ministry
A Primer on Pauline Theology
Galatians
1 and 2 Thessalonians
Philippians
MIDTERM
Colossians, Philemon, and Ephesians
1 and 2 Corinthians
Romans
The Pastoral Epistles
The Gospel According to Mark
The Gospel According to Matthew
The Gospel According to Luke and Acts of the Apostles
The Gospel According to John
The Making of the Gospels
Introduction to Early Christian Letters
The Letter to the Hebrews
Letters by Jesus's Brothers: James and Jude
Petrine Letters: 1 and 2 Peter
Johannine Letters: 1, 2, and 3 John
Revelation
Introduction to Textual Criticism of the New Testament
The Canonization of the New Testament
Bringing It all Together
FINAL EXAM